Hello all!
This month we have a lot to celebrate!
It's now the book club's fourth anniversary! Wow! Where does the time go?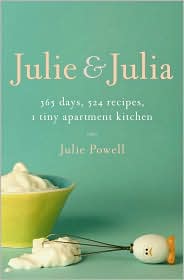 So in honor of summer and celebrations, we're reading "Julie and Julia" the wonderful book about how a fellow Brooklyn girl took Julia Child's Mastering the Art of French Cooking and committed herself to cooking every single recipe in a year.
To celebrate, we're planning a festive party to not only commemorate our anniversary but also Bastille Day on Tuesday, July 14. Look to this blog for more details as soon as we can confirm them.
In the meantime, plan on spending some seriously fun time with the book. We're also trying to see if we can work out an arrangement to see the movie, with Meryl Streep and Amy Adams, when it comes out in August. More on that soon, too!
Please RSVP by e-mailing me at alison@thecharlotteweekly.com.
Thank you book clubbers for making book club such a fabulous place to be! Here's to Year 5!
Alison